This article introduces how to merge two partitions on Windows 10 (32/64 bit). To combine partitions in Windows 10/8/7, you may either use Disk Management or 3rd party partition editor.
Merging partitions means combine 2 partitions/volumes into a larger one. Two typical example why merging partitions in Windows 10/8/7: 1, system C drive runs out of space, by combining it with another partition you can increase C drive free space. 2, there are too many volumes causing it difficult to locate partition and the files you need. In this article, I'll introduce 2 ways to merge Windows 10 partitions with detailed steps. To Windows 8 and 7, the steps are the same.
2 ways to merge disk partition
To combine Windows 10 volumes, there are two choices: native Disk Management utility and 3rd-party partition software.
Disk Management is a built-in component of all Windows Operating System, which can do some basic management operations such as create, delete and format volume. In Windows 10 Disk Management, there are advanced Shrink and Extend Volume functions to help change partition size without losing data (in most cases).
There's no Merge Volumes in Windows 10 Disk Management, but you can achieve by Extend Volume indirectly. However, to combine 2 partitions via Windows 10 Disk Management, your disk partition configuration must meet all requirements below:
Both volumes are the same Primary partition or Logical drive.
Both partitions are on the same disk.
The destination partition must be formatted with NTFS file system.
Other limitations of Disk Management:
It cannot merge 2 non-adjacent partitions.
It can only merge a volume into the left contiguous one, for example: merge drive D into C, or merge drive E to D.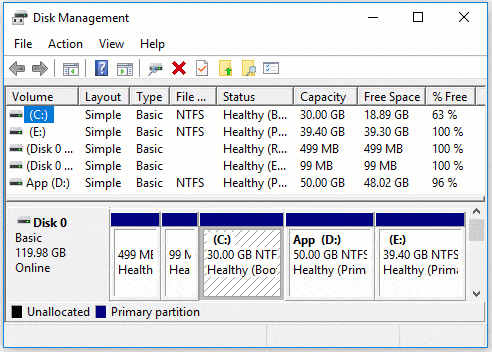 With partition editor software, there are no such restrictions to merge partitions in Windows 10/8/7/Vista/XP.
Combine partitions in Windows 10 Disk Management
When merging 2 partitions with Windows 10 Disk Management, the right contiguous partition will be deleted. Remember to back up or transfer files in this partition before deleting.
Steps to merge partitions in Windows 10/8/7 with Disk Management:
Press Windows and R on the keyboard, type

diskmgmt.msc

and press Enter to open Disk Management (Press

Windows

and

X

on Windows 10).
Right click drive D and select Delete Volume, then its disk space will be converted to Unallocated.
Click Next till Finish on the pop-up dialog boxes.

In a while, original drive D is merged into C drive.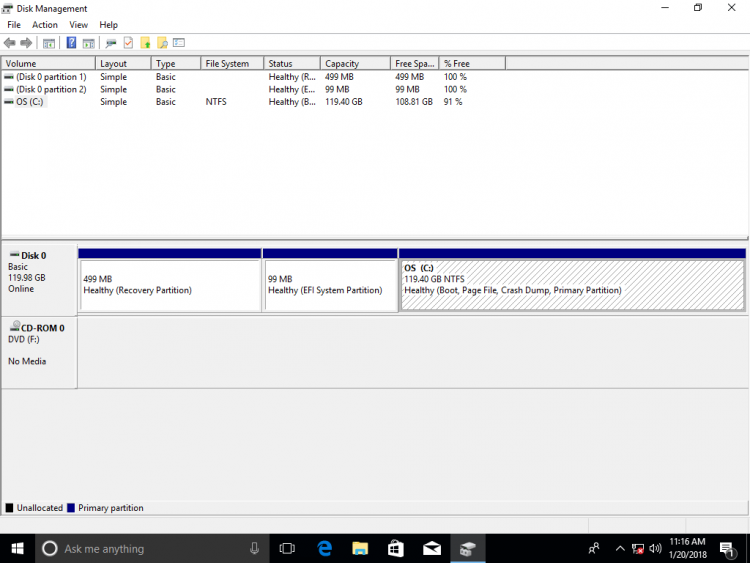 How to merge partitions with free partition editor
Better than Disk Management, third party software can merge two partitions without so many restrictions. Among these software, NIUBI Partition Editor has unique 1-Second Rollback, Virtual Mode and Cancel-at-well technologies to protect your system and data, so it is recommended to accomplish this task. To combine partitions, only several clicks are needed. In addition, all files will be moved to a folder in root directory of the destination partition automatically. It has free edition for Windows 10/8/7/Vista/XP home users.
Steps to combine partitions on Windows 10/8/7/Vista/XP with NIUBI:
Step 1: Download NIUBI Partition Editor Free, right click either partition that you want to combine together and select Merge Volume.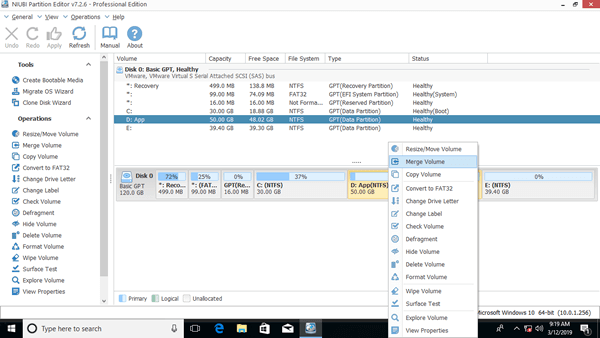 Step 2: In the pop-up window, click the check-boxes of both partitions and then click OK.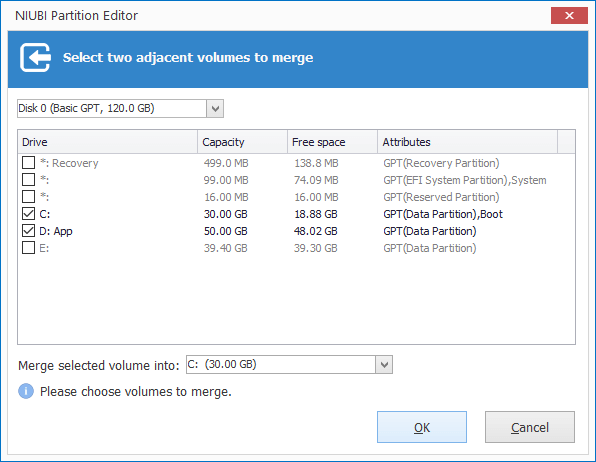 When you merge two data volumes, you can select either as destination in the drop-down box. But when merging C and D drives, you can only select C as destination, because system partition can't be deleted. So, merging system partition C: to data volume (D:) is disabled.
Step 3: Press Apply button on top left to execute. (This operation works in its own virtual mode and real disk partitions won't be changed until you click Apply to confirm).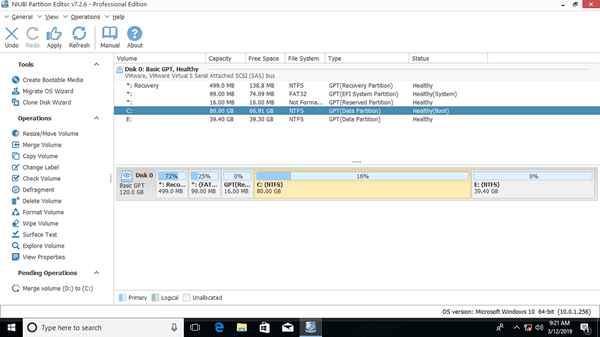 After merging volumes complete, open C drive in Windows Files Explorer and then you'll see a fold that that is named as D to C(date and time). All files of D will be moved to this folder automatically.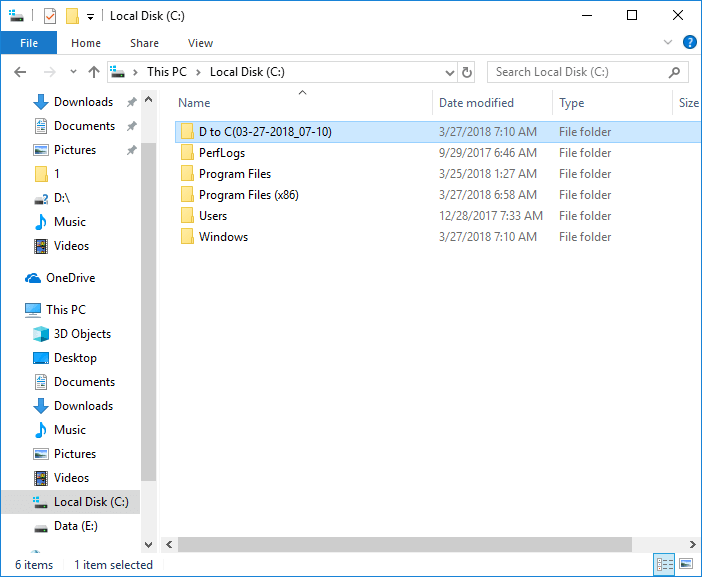 Watch the video how to merge partitions in Windows 10/8/7/Vista/XP (32 and 64 bit):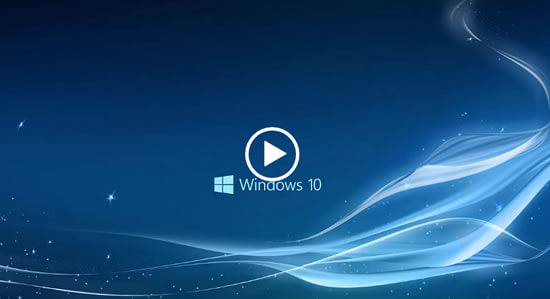 Disadvantage of merging 2 partitions together
One of the partitions will be deleted no matter which tool you use, it doesn't matter if you want to combine two data drives. But if you want to extend C drive by merging D, it is not suggested, because:
You'll lose data if you forget to back up or transfer before deleting partition (with Disk Management).
All Windows services, application, shortcuts that point to drive D will stop working after deleting.
In some particular condition, you still cannot extend C drive after deleting D.
The best idea is shrinking D drive instead. Part of free unused space in drive D will be converted to Unallocated, then combine this Unallocated space into C drive. In this way, nothing will be changed except partition size.
Follow the steps to expand C drive by shrinking other partitions: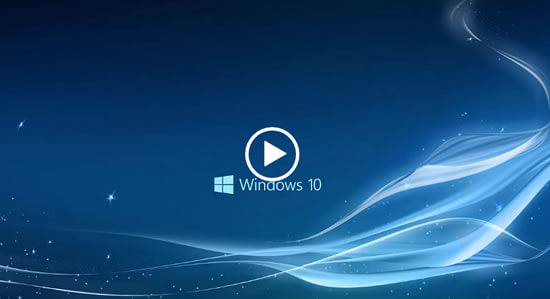 Merge partitions on disk 0 and disk 1 (separate disk)
If you want to merge a data volume in Disk 1 to system C drive in Disk 0, no partitioning software can do this. If there is not enough free space on the same disk, you have two choices:
Move a data partition in Disk 0 to another disk, then delete it and add space to C drive.
Copy entire system disk to another larger one.
Besides merging partitions in Windows 10/8/7/Vista/XP, NIUBI Partition Editor Free Edition helps you do many other operations such as shrink, extend, convert, defrag, hide, wipe, scan bad sectors. It is the same with Professional Edition except 1-Second Rollback technology and bootable media builder.